Welcome!
Welcome the online repository of International European University!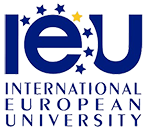 The electronic archive of International European University (eIEU) (repository) collects, stores and distributes scientific and educational materials created by university staff and students and provides free access.
Key features of the institutional repository:
public access to scientific discoveries of the university;
access to scientific discoveries of the university for the global community;
all materials in one place;
storage of other electronic materials, including unpublished ones (so-called grey literature) such as theses and technical reports.
Uploading your publications to IEU's repository is the best way to improve university ranking!
To upload your research articles to the University's institutional repository:
Check the regulations on IEU's repository, the order "On establishing the collection of printed and electronic publications"
Submit the following documents to the library:
author's accession agreement;
electronic Word or searchable PDF publications;
title, annotation and keywords in Ukrainian, Russian and English.

Publications sent by the author individually are primarily subject to reviewing.

If you have any questions about submitting full-text publications to the repository, please contact: library, 5th floor, 42В Akademika Hlushkova Ave., e-mail: library@ieu.edu.ua
Communities in DSpace
Choose a community to browse its collections.